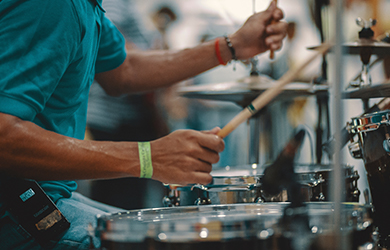 Matthew 17:20 -
"For I assure you: If you have faith the size of a mustard seed, you will tell this mountain, 'Move from here to there,' and it will move. Nothing will be impossible for you."
Apply this verse in all of your songwriting endeavors. If we have that kind of faith, who can stop us from reaching our goals.

About the Owners - Cam Wilson
The backbone of Songwriter's Portal pitch service is Co-Owner and President, Cam Wilson, simply known as "Cam". Cam grew up in Los Angeles County, CA in an entertainment family, full of Songwriters, Musicians, Producers, Screenwriters and Entertainers. Growing up in the entertainment capital of the world is not the most traditional life, but it sure was fun, states Cam. Like many rebellious teenagers in L.A., Cam spent a great deal of time in West Hollywood sneaking into the Roxy, The Whiskey Go Go, and later in the 90's, Viper Room on Sunset Blvd. He used his family's connections to rub elbows with some of Rock & Roll's royalty and developing his ear for music.

At 18, Cam was making the weekly trek between Seattle and Los Angeles, helping the launch and spread of the Grunge movement. As time moved forward Cam developed his skill set in Music Marketing, taking three startup companies and turning them into multi-million dollar organizations.

Cam is up to the challenge in helping songwriters reach their potential with Songwriter's Portal. His thoughts are, "You shouldn't have to live in LA, New York, Atlanta or Nashville to break into the biz. It's all about innovation, technology and good old fashion hard work. I'm an advocate for the little guy, the underdog. I'm here to Challenge the status quo. It shouldn't cost writers hundreds of dollars a month to have their songs plugged or having to sign away a percentage of their royalties. I was fortunate enough to grow up with some great mentors in the entertainment industry. I learned early on in my career, it's not so much who you know, but more important, who are you going to know! That statement stands even truer today in the music industry. Just look how it's changed in just the past 5 years.

My mentor taught me, "As your environment changes and you don't change with it, you will soon be extinct. At Songwriter's Portal we are using innovation and technology through the use of algorithms to match writers to opportunities and it's working. It all starts with a great song. We hope you join us and allow us to play a small part in your musical journey..

Cam - President of Pitch Services.
About the Owners - Wes Senter
The designer of Songwriter's Portal, Co-Owner and President of Technical Services. Wes began writing and recording music fifteen years ago. This was a part-time endeavor for him to see if he could "write". Wes is currently ranked #1 in Fredericksburg, Texas and #3 in San Antonio, Texas for the most listened to americana music. To date, he is approaching 100,000 plays on Soundcloud.

His career spanned forty years as a Network Engineer/Architect, a Program Designer for many large companies, and an IBM Systems Programmer. He has developed many commercial duty applications for all types of retail stores. He started a computer sales company from his home. In four months, he opened a retail store in a shopping center in Fort Worth. Six months later, he opened a second store in Arlington. For five years his sales exceeded $2.8 million per year. He wholesaled computer parts to the Tandy Corp and Michael Dell before Michael created Dell.

Wes stated "Songwriter's Portal is the perfect marriage of the music industry and technical know how." It was hard work to get the Portal to this point, but Wes believes that it is ready to tackle any size songwriter base. A mountain of technology went into the design, monitoring, and measuring of traffic for Songwriter's Portal. Over a thousand hours and twenty-thousand lines of code went into the creation of the portal.

As Cam says, "As your environment changes and you don't change with it, you will soon be extinct". We have created an innovative process for managing songwriter's music from start to distant end. Instant Communications/Notifications is Key!

Wes Senter- President of Technical Services.